A Chartered Accountant who changed the office for a life on luxury yachts
Nikita Sutton recently made the switch, leaving her accounting career to pursue adventure and get out of the Monday – Friday routine. After completing her Superyacht Stewardess Course (Course) with us she has found work on board a 54m luxury motor yacht. Here is her story…
The question I get asked the most is 'Why, when you have an amazing career that you have spent 8 years studying towards, would you want to give that all up and go and clean toilets for rich people?' Which is a valid question, and I can completely understand why it is asked.
As a 26-year-old, I didn't want to spend the rest of my life, my career, sat behind a desk coming back to the same house, doing the same chores, living the same life.
So I took the leap and contacted Flying Fish, who were very helpful in helping me decide that this was the right move and a good alternative career paths for accountants.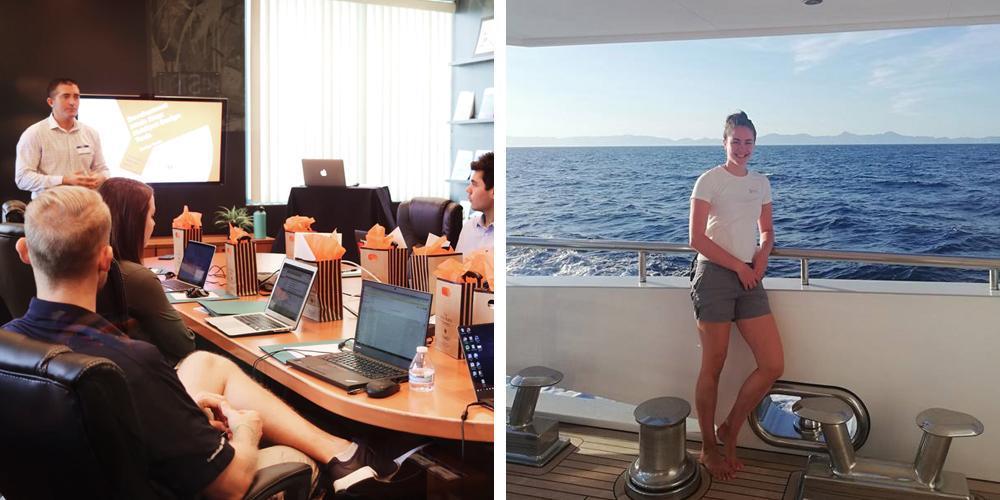 Becoming a yacht stewardess & crew purser
I'm not actually giving up my accounting career, I'm simply transferring it to another industry. Within yachting, on some of the larger yachts there are pursers (the ships accountant), which I'm hoping to work my way up to after a few seasons.
I was very lucky securing my first job, it happened very quickly via Yotspot. The day after my course finished, I started applying for jobs, via Facebook, Instagram, agencies; every way I could.
Later that morning I had a WhatsApp message from a Chief Stewardess asking me if we could have a phone interview, which I then had at midday that same day.
When having a phone interview I can't stress enough to be yourself, answer the questions honestly, there are no such thing as a 'wrong answer'.
For example, when being asked about my alcohol intake and what I like to do in my evenings, and how I socialise with friends, I said that I didn't really drink that much and my friends and I would hold games evenings.
Yes, I know this is very nerdy, but it paid off. Her response was that the boat didn't really drink a lot, it wasn't a party boat and that a few of the guys liked to play cards and board games of an evening. She then said I would fit in very well. So be true to yourself, you will find a boat with the right fit for you.
Leading on from that, finding 'the right boat' is a huge deal. Cliche I know, and people go on about this all the time, and I didn't believe it either, how can a boat be right for you, a boat is a boat, but it is so true.
You live, eat, drink and sleep with your crew 24/7 so you have to get on. I consider myself very lucky to have found the boat for me very quickly, but also don't be afraid to say that you feel the boat isn't right for you, they will respect you for this.
When I came down to Antibes for the Flying Fish recruitment day, I messaged the Chief Stewardess saying I was down in Antibes, and she asked me for an interview at 11am the following day with herself and the captain. This was then followed by 2 days daywork and a job offer! My foot was in the door.
I would definitely recommend setting up as many agency accounts as possible, this is proof they do work.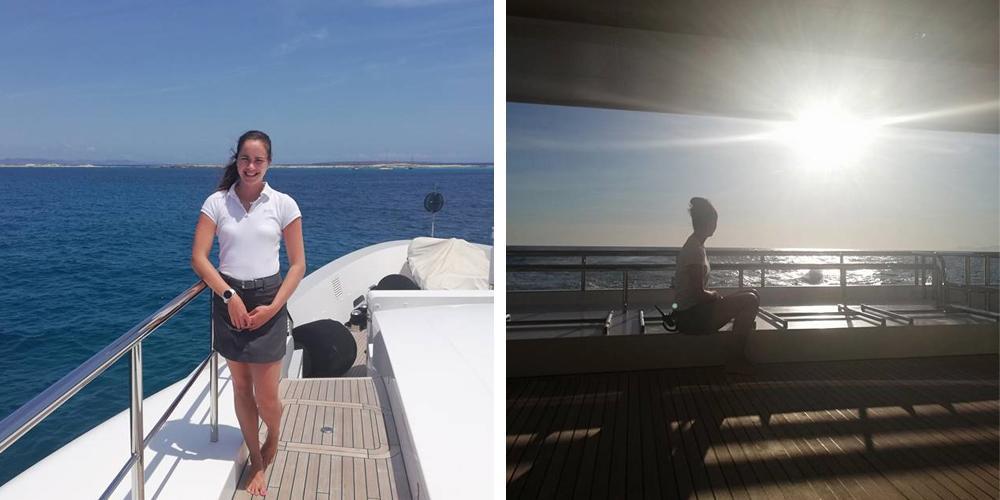 I'm now on a 54m Motor Yacht with a crew of 14, Captain, Chief Officer, Chef, 2 x rotational Chief Engineers, 2nd Engineer, Bosun, 3 Deckhands, Chief Stew, 2nd Stew, and the two
stewardess' (one of which is me).
A typical days work for a yacht stewardess
A typical 'boss off' day for me would be starting work at 8am, always be ready by 7.55am, work starts at 8am prompt.
As a team of 4, we rotate through laundry and housekeeping. We have to make sure all crew laundry is done, the crew mess is clean, tidy and fridges and cupboards are stocked up. It's like something out of MTV cribs!
Then on housekeeping, its making sure the captains cabin is cleaned and the bed is made, cleaning the bridge, detailing cabins (cotton buds and toothpicks really do become your best friends!)
We have a couple of breaks throughout the day, and an hour for lunch where the chef cooks some amazing crew food, we really do get spoilt!
The day would then finish around 5pm, from then we are allowed to have our own time. I like to go running, aiming to do a 5km in each port we dock in. Some people go shopping, out for dinner or just chill watching films in their cabins.
Completing my first Boss trip was a steep learning curve. Rotation through laundry, housekeeping and service. No question is a stupid question, it's always better to ask, then do it wrong! I learnt this very quickly.
The hours were long and it was full on, on your feet all day attending to the guests every need. One day I cleaned the same cabin 4 times before 10am, you wouldn't believe it, but this is what we are paid to do, so we always do it with a smile on our face, nothing is ever too much trouble.
We set sail in a few days time, and I am beyond excited. We have a great itinerary planned and we get to see and visit some amazing places. Marbella, Valencia, Ibiza, Menorca, Turkey and Greece to name a few.
Every day I wake up, look out my porthole and realise that this is now MY lifestyle, every day is a different day, in different places, having new experiences. No more being stuck behind a desk, inside, dealing with spreadsheets.
Why wouldn't you make the change yourself?
Take the first step, take the leap, take the risk, it will pay dividends…
What are YOU waiting for…?
If you found this article interesting, you may also like to read about how working on a superyacht is a great alternative career for cabin crew.