At Flying Fish, we get a lot of questions about STCW, like 'What STCW and why do I need it?'
To help you understand what STCW is all about, we've covered some of the basics of why you need it and what is included in the video and blog below…
What does STCW stand for?
STCW stands for 'Standards of Training, Certification, and Watchkeeping'. STCW came into force in 1978 as Governments agreed to standardise training around the world. STCW Basic Safety Training, as it is known today is required by all seafarers who are working onboard commercial ships or Superyachts.
If you are seeking employment on a commercial ship, ferry, cruise ship or Superyacht, you are required to complete a STCW Basic Safety Training Course. It is worth noting, all seafarers are required to complete an ENG1 Medical.
If you need to complete the STCW Basic Safety Training Course then we can help you get qualified.
What is the difference between STCW 95 and STCW 2010?
The first International training requirements for merchant ships were introduced in 1978.
This was part of a scheme by the International Maritime Organisation (IMO) to standardise Maritime training across the world. Before 1978 individual Governments decided the standards, without consulting other countries.
As a result, training practices and procedures varied from country to country and with shipping being a global industry, one country would not accept another's training standards. This led to ships being delayed in port, lots of red tape and political arguments between nations.
The 1978 STCW Convention, a meeting of all IMO member states, decided on a standard of training and certification to be adopted by all states henceforth. This agreement was ratified in 1978 and came into force in 1994.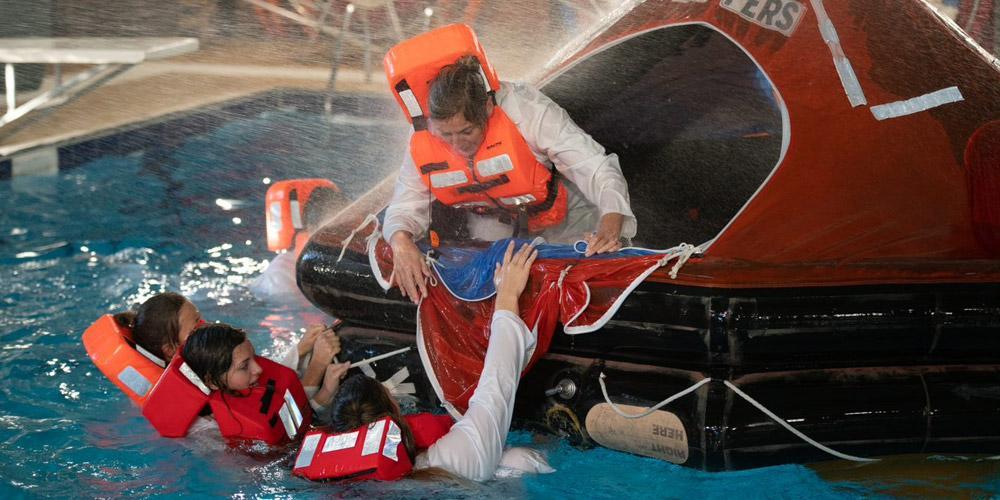 On 7th July 1995 the STCW code was updated, these were mainly administrative changes to bring the convention up to date. Basic principles of the STCW 95 convention were that all crew should receive basic training to cope with emergencies on-board. 
In 2010 STCW received another update; the manila amendment set the latest training standards and certification for seafarers which finally came into force in 2014.
The latest changes introduced Security Awareness training, which provides new seafarers guidance on security related issues onboard. If there was a security breach, for example relating to piracy or robbery, the seafarer will know to recognise they are a threat and be able to take the right course of action.
How many courses are there in STCW?
After the STCW 2010 update, there are now five courses included within STCW Basic Safety Training. This training lasts around a week, and must include the following:
Fire Fighting and Fire Prevention
A 2.5 day practical course that teaches you how to use the fire fighting equipment on-board your ship in the event of a fire.
Personal and Social Responsibilities
A 0.5 day course that introduces the safety procedures on-board, your responsibilities, living and working on-board a ship.
Personal Survival Techniques
One day of survival techniques, abandoning ship, equipment found on-board. This course includes a practical session in a swimming pool.
Elementary First Aid
One day of practical training on basic first aid, resuscitation techniques and practical first aid techniques.
Proficiency in Security Awareness
A 0.5 day training module which is all about how to respond to security issues and threats whilst working at sea.
How long does your STCW last for?
The STCW certification is valid for 5 years from completion of the course. If your STCW Fire Fighting and Personal Survival Certificates are more than 5 years old you must complete an update training course to be able to work on-board.
Between 1 July 2013 and 1st January 2017, all seafarers who hold the basic STCW Personal Survival and Fire Prevention and Fire Fighting Certificates were encouraged to complete an STCW Refresher Course before the new regulations came into force in 2017.
From 1st January 2017 all seafarers are required to provide evidence (updated certificate) that the seafarer has completed an STCW Refresher Course in Fire Fighting and Sea Survival in the last 5 years.
Choosing an STCW School
Now we've answered the question "What is STCW?" and covered the basics, the next question you might have is: "How do I get my certification?"
The STCW Basic Safety Training we provide at Flying Fish complies with the latest guidelines laid down by the Maritime and Coastguard Agency (MCA), our governing body.
You can be assured booking an STCW Basic Safety Training Course with us will be accepted by your employer as meeting the latest STCW requirements.
Simply follow the link below to book your place on the course today!