Working as a crew member on a Superyacht has some incredible perks…
… from being on the ocean and seeing new countries to brushing shoulders with the rich and famous and, of course, earning an amazing salary.
Typically, a superyacht crew salary starts from €2,000 a month for Deckhands and Stewardesses, rising to €4,000+ for more senior roles. A Captain can make €10,000+ per month, depending on the size of the Superyacht!
What's more, as you'll be living onboard the yacht, there are no living expenses to worry about. Your meals are prepared by the Chef onboard, too, and you very rarely need to buy any groceries or toiletries.
Another huge benefit that contributes to the amazing Superyacht salary is the potential for your earnings (typically paid in Euros) can be tax-free!
Read on for our complete guide to the Superyacht crew salary for 2022…
How much do you make working on a Superyacht?
In short, your salary will depend on the role you work in on the Superyacht, in conjunction with its size; however, the average salary is €2,500 per month (most boats pay in Euros rather than pounds).
Several other factors will determine Superyacht crew salary, too, including previous experience, qualifications, extra skills (such as Dinghy Instructor, Carpenter and Divemaster, to name a few).
Whether the yacht is chartered or privately owned will all contribute to your monthly pay packet; your basic salary will be the same whether you work on a charter yacht or a private boat, though on a charter, you will generally receive tips; this usually around 10% of your monthly salary, or it can range between €1,500 to €5,000+.
We've shared current Superyacht salary approximations for 2022 in the table below:
How much do you make working on a yacht?
| | | | | |
| --- | --- | --- | --- | --- |
| Position | 20-40m | 40-60m | 60m+ | 80m+ |
| Captain | €4,000-€7,000 | €7,000-€14,000 | €14,000+ | €16,000+ |
| First Officer | €3,000-€5,000 | €4,300-€5,700 | €6,000+ | €7,000+ |
| Bosun | | €3,200-€4,500 | €4,000 | €5,000 |
| Chief Stewardess | €3,000-€4,500 | €4,000-€6,000 | €6,000+ | €7,000+ |
| Experienced Stewardess | €2,800-€3,000 | €2,800-€3,500 | €3,500+ | €4,500+ |
| Experienced Deckhand | €2,800-€3,500 | €2,800-€4,000 | €3,500+ | €4,500+ |
| Junior Stewardess | €2,000-€3,000 | €2,000-€3,000 | €3,000+ | €3,000+ |
| Junior Deckhand | €2,000-€3,000 | €2,000-€3,000 | €3,000+ | €3,000+ |
| Chef | €3,000-€4,500 | €4,000-€7,000 | €6,000+ | €7,500+ |
NB: This table is intended as a guide only, and may not reflect your actual Superyacht salary.
Here's a breakdown of Superyacht crew salaries in more detail by role:
Superyacht Captain salary – €4,000 to €16,000+
A Superyacht Captain is responsible for all activity onboard, crew safety and well-being, and the experience offered to guests.
The Captain is the owner's main point of contact on the yachts; whether things are going right or wrong, it can be a highly pressured and stressful job.
The salary reflects the responsibility in this high-pressure environment, and the range in salary normally depends on experience and the boat's length.
Generally, larger boats will carry more guests and staff; therefore, the Captain will have higher responsibilities, budget, and potential issues to deal with.
First Officer salary – €3,200 to €8,000+
The First Officer, also known as Chief Officer or Chief Mate, is always second in command to the Captain.
They will assist the Captain in a wide range of duties and tends to be responsible for the safety of the Superyacht and everyone on board. Furthermore, the role of the First Officer also includes bridge watches and navigation.
Due to needing a firm understanding of working on deck, the First Officer normally starts their career as a Deckhand and progresses from there.
If you are an experienced First Officer and have moved onto larger yachts, then your next step will be to become a Captain.
Superyacht Bosun salary – €3,200 to €5,000+
Otherwise known as the Senior Deckhand, the Bosun is the 'line manager' of all Deckhands on the boat. The responsibilities of the Bosun are to manage and maintain the exterior of the yacht to the highest order.
This role also includes spending time with the guests, making sure they are having fun and are safe on all the toys the Superyacht has, such as jet skis and dinghy sailing boats.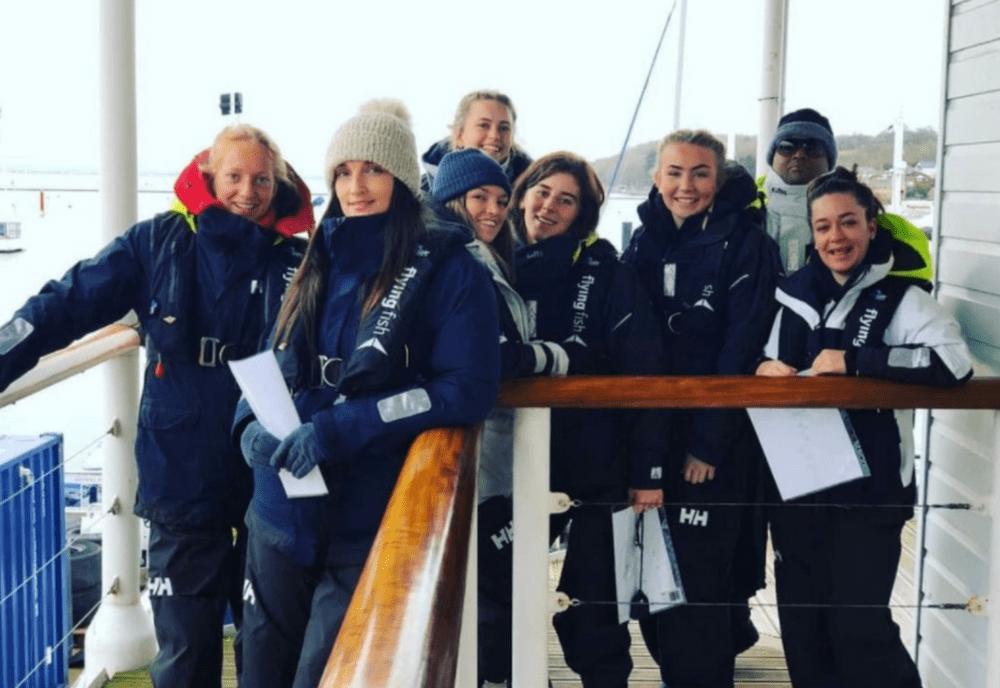 Chief Stewardess salary – €2,800 to €7,000+
The Chief Stewardess is responsible for the interior of the Superyacht. Attention to detail, elegance,
and cleanliness is paramount for this role.
Moreover, you will be required to perform duties discreetly and anticipate the requests and demands of guests, as well as manage your team of Stewardesses. A managerial background in hospitality will therefore help for this role.
Generally, the Chief Stewardess will have gained previous experience in an entry-level Stewardess role and fully understands the functions of a working Superyacht.
Superyacht Stewardess salary – €2,000 to €3,500+
This is an entry-level position working on board a Superyacht.
Being a Superyacht Stewardess is a wide-reaching role that covers a range of day-to-day activities and tasks. You will be the host, cleaner, florist, and housekeeper, and collectively responsible for looking after the guests 24/7.
If you are looking at not going to uni, and want a career with real progression and a very good salary, becoming a Superyacht Stewardess could be for you!
This is another entry-level role to work on a Superyacht.
A very hands-on role, the Deckhand is responsible for the exterior of the yacht, and tasks will typically involve cleaning, painting, sanding, varnishing, and all general maintenance of the boat.
As with all Superyacht roles, you will be required to at least have your STCW Basic Safety Certificate, and completing a Deckhand Course will give you an advantage when looking for your first job on a Superyacht.
Looking for more information on working in the Superyacht industry?
Be sure to download our guide to working on Superyachts, and contact us today for more information on how to launch your Superyacht career through one of our courses!