When you first start looking for Superyacht crew jobs, you'll most likely be considering becoming a Deckhand or Stewardess.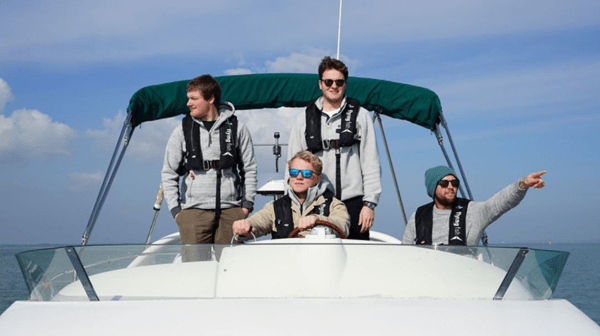 These are two of the most popular entry point roles into a Superyacht career, and – as we never tire of saying here at Flying Fish – promise an abundance of benefits and incredible experiences!
Of course, these are not the only Superyacht crew jobs on offer, and if you are about to or have completed your Deckhand or Stewardess training, you may be wondering what other kinds of crew members you'll be working with.
What's just as important to know however is the hierarchy of those crew members; not only so that you know who to report to in different situations, but so that, if you want to progress your career beyond the Deckhand or Stewardess role, you'll have an idea of the best path to take!
To help you out, we've outlined the hierarchy of a Superyacht crew for you below…
Depending on the size of the Superyacht, the hierarchy of a Superyacht crew goes something like this: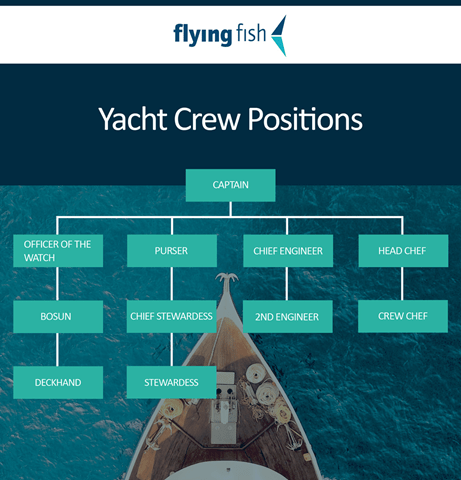 1. Captain
Working under the owner of the Superyacht or the owner's representatives, the Captain of a Superyacht is responsible for the safe and smooth running of the ship – so he or she is who you will ultimately need to answer to!
The duties of the Captain go beyond navigation and the sailing of the vessel to managing admin, health and safety, ensuring compliance with maritime regulations, financial reporting and much more.
If you're looking to become a Superyacht Captain yourself, you'll need to have worked your way up from the majority of the other roles in this blog, as well as undertake a number of other qualifications and be able to demonstrate a variety of knowledge and skills, including seafaring, admin, IT, health and safety, and even accounting.
2. Officer of the Watch (OOW)
The OOW is second in command to the Captain and is responsible for the day-to-day running of the deck, as well as taking care of navigation and running watches when on passage.
They'll also have a significant hand in the maintenance of the Superyacht, as well as being in charge of the deck equipment inventory.
If this is a role you'd like to progress to, there are several different paths you can take, all of which we've shared in our blog "Becoming an Officer of the Watch (OOW)".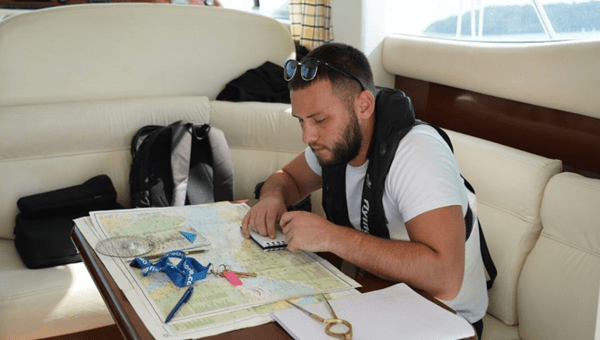 3. Purser
This is one of the lesser-known roles on a Superyacht (as their duties will usually fall to the Captain on smaller vessels), but is nevertheless important!
In brief, the Purser works under the captain, taking charge of financial matters on the Superyacht (e.g., accounting, purchasing food, drink and cleaning supplies etc.), as well as taking care of HR and recruitment.
In fact, they may well be one of the first people you meet when you begin applying for Superyacht crew jobs!
In order to become one, you'll need to have sound knowledge and experience of the Superyacht industry, and have a range of financial and IT skills and qualifications under your belt on top of your STCW certificate and ENG1 Medical certificate.
4. Chief Engineer
A Superyacht is a vast and complex vehicle – so, as well as Deckhands taking care of its exterior, it also needs someone to manage it's mechanical functioning – and that's where the Chief Engineer comes in!
In a nutshell, the Chief Engineer (and the 2nd Engineer who works under him/her) are responsible for ensuring that every aspect of the Superyacht's mechanics runs without a hitch.
If Chief or 2nd Engineer is a role you'd like to pursue, starting off with Deckhand training is a good choice, as it will provide you with a good introduction to Diesel Engine Maintenance and general maintenance and repairs.
5. Head Chef
A Superyacht holiday wouldn't be complete without delicious meals for guests to enjoy. Every Superyacht therefore has an appointed Head Chef to take on the role of providing these to the highest possible standard throughout the day.
To become a Head Chef on board a Superyacht, you'll need to have completed all the necessary culinary qualifications to become a chef and have comprehensive experience of working as a Head or Sous Chef in a hotel or restaurant. You'll then also need to have your STCW Basic Safety Training certification on top!
Working as a Crew Chef (working under the Head Chef and making meals for all the members of the Superyacht crew) is a great entry point into this role.
6. Bosun
"Bosun" is another term for "Senior Deckhand." Their role is to take charge of daily cleaning and maintenance tasks, as well as drive the yachts tenders and (if on a larger boat requiring more crew) look after the Deckhands working under them.
After a few seasons of experience and proven hard work and dedication as a Deckhand, you'll be in a great position to apply for a Bosun job!
7. Chief Stewardess
The Chief Stewardess is in charge of the Superyacht's interior, including laundry and service. It is their duty to ensure that guests on board have a five-star experience around the clock! Like the Bosun, the Chief Stewardess will also be in charge of looking after a team of Stewardesses, depending on the size of the boat.
Again, as with a Deckhand, after a few seasons working as a committed and stand-out Stewardess, the Chief Stewardess role will be within easy reach.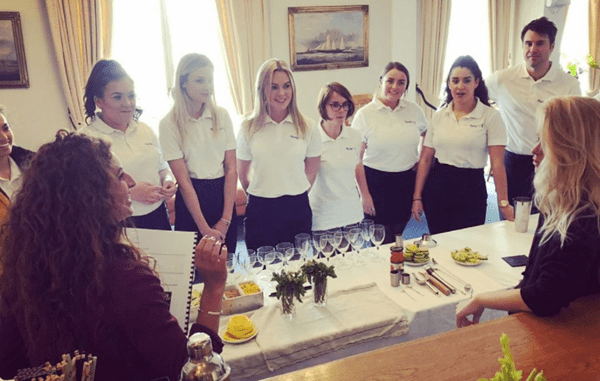 8. Deckhand
The role of the Deckhand is to maintain and clean the exterior of the yacht to ensure that it is in perfect condition at all times.
The Deckhand is also involved in other deck operations, mooring, anchoring and sometimes security.
This, along with the Stewardess, is at the bottom of the Superyacht hierarchy, and is best pursued after the completion of a Superyacht Deckhand course.
9. Stewardess
As a Stewardess, you'll be assisting the Chief Stewardess to ensure that guests on board the Superyacht enjoy only the best possible experience.
This involves working on the interior of the yacht, including service, cabin preparation and providing guests and owners with whatever they need.
Although you can work as a Stewardess without any prior experience (same as a Deckhand), it's always a good idea to undertake a Superyacht Stewardess course first and gain a number of other skills to give you the upper hand when applying for roles!
How much money do these crew members earn?
Once again, depending on the size of the Superyacht, salaries can vary in these different roles. You can find out more about this in our Superyacht salary guide.
In sum, the hierarchy of Superyacht crew jobs is straightforward – but offers a wealth of exciting career possibilities to the most dedicated of seafarers!
If you can see yourself taking up an office on the ocean and climbing the Superyacht career ladder, be sure to take a look at our Superyacht training courses at Flying Fish.
After just two weeks of Deckhand or Stewardess training, you'll have everything you need under your belt to impress yacht crew agencies (such as YPI Crew and Insignia Crew) and take that very first step into a truly rewarding and memorable career!