A Superyacht stewardess job is like no other and is one of the most common ways to start working on superyachts.
Providing a 5-star service to the owners and guests, your main responsibility is to maintain the interior of the yacht and provide the highest standard of hospitality possible.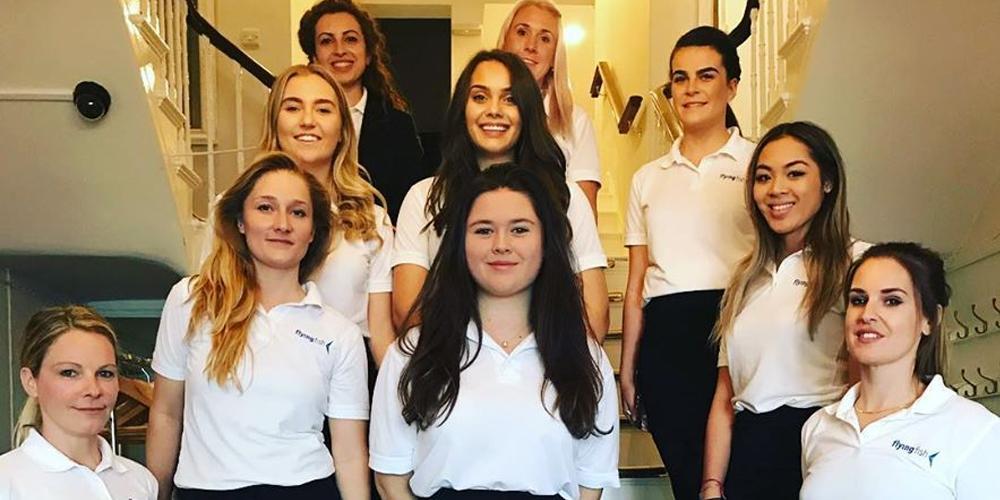 Job description of a yacht stewardess
As a Steward or Stewardess, your main responsibility is to maintain the interior of the yacht and provide the highest standard of care to the owners and guests.
Taking direction from the Chief Stewardess, you will need a keen eye for attention to details, be able to learn new skills quickly and be confident in your ability to perform any job in an exceptional manner.
Every yacht is different but generally you would start at 08:00 with a crew briefing, your day begins around 08:30.
Your duties may include cabin preparation and detailing to a very high standard, laundry, setting tables, arranging flowers and cleaning all areas of the interior of the yacht.
On some yachts you will help the deck team moor (park) the yacht. When guests or owners are on board you will serve food and drinks, prepare beach parties, pack and unpack luggage and be on call for anything that the guests want anytime day or night.
There will be two breaks plus lunch before finishing work around 17:00. When the owner or guests are on board the days can be long and hard work.
In reality there is no set finish time so you should expect 12 – 14 hour days. It has been known for yacht crew to work weeks without a day off however, the perks do outweigh the long hours and hard work, which is why working in the Superyacht industry is so attractive.
How much does a stewardess make on a yacht?
Salaries for yacht stewardesses start from around €1,800 a month, rising to €4,000+ for more senior roles. Like most jobs, your salary will depend on your previous experience and whether you can bring any added value to the yacht.
Experience does not just mean working on yachts, there are a lot of other transferable skills that can help you get a job or negotiate a higher wage. For example hospitality work will help massively, but this is almost a prerequisite for all yacht stewardess jobs. The yachts are looking for hard working people who are used to working long hours, and this is generally the case for hospitality workers.
Fear not, if you do not have much hospitality experience our Superyacht Stewardess Course includes barista training, wine appreciation and mixology so you can be confident serving and hosting onboard the boat. Other great work experience can include childcare, massage, beauty therapy or even hairdressing. Any job that involves working with the public will help.
For all salaries on board a yacht – see our Superyacht Salary Guide.
What qualifications do you need to be a yacht stewardess?
You must have your ENG1 medical and STCW Basic Safety Training certificate to work on any commercial vessel. Other qualifications that are great for stewardesses wanting to work on yacht include:
Superyacht Interior Certificate
CIEH Food Safety Level 2 ( online course is not accepted on yachts )
MCA Proficiency in Designated Security Duties (PDSD)
RYA Powerboat Level 2
RYA Personal Watercraft Course (PWC)
RYA VHF Radio
Barista training, wine appreciation and mixology
If you are interested in becoming a Stewardess on a Superyacht, Flying Fish run Superyacht Stewardess Courses throughout the year.