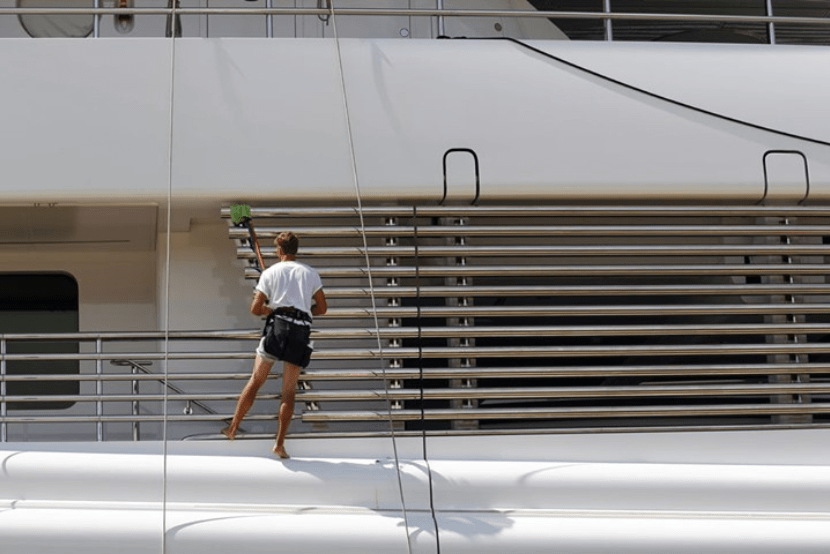 Deckhand and Deck Officer jobs on Superyachts are not only great fun, but incredibly varied and rewarding!
Ultimately, the job of a Superyacht Deckhand is to maintain the exterior of the yacht, keeping it both sparkling clean and running like clockwork to ensure guests aboard have an enjoyable and smooth-sailing experience.
This includes jobs like washing the yacht, cleaning the windows, scrubbing the teak decks, varnishing, polishing the stainless, sanding and painting and ropework, such as essential knots and splicing.
However, there are several duties that fall under the role of Deckhand that you may not have been previously aware of (yes, on top of all the duties above), which are important to know about before you take on this first step of your yachting career.
Want to find out what these are? Then read on!
5 aspects of Deckhands job on Superyachts that you may not know about:
1. Driving tenders and jet skis
As well as spending time on the main Superyacht, you may also find yourself at the wheel of one of the yacht's accompanying tenders or jet skis taking yacht guests out for a spin!
Driving the tender will predominantly involve you picking passengers up from the shore and bringing them to the Superyacht, and vice-versa, while driving the jet ski will see you taking one or two of the Superyacht's guests for a ride on the waves. Both are incredibly fun, but carry a good deal of responsibility.
Powerboating and Water crafting are modules we cover in our Superyacht Deckhand course at Flying Fish, so you'll be more than prepared to take on this exciting aspect of the job once you're ready to find a role!
2. Helping with water sport activities
If you enjoy water sports, then you'll love this lesser-known aspect of deck officer jobs on Superyachts! From kitesurfing to windsurfing, paddleboarding to canoeing, kayaking and much more, there's almost no end to the different water sports you could find yourself assisting with.
You'll be required to complete Watersports Instructor courses in order to get truly hands-on with these activities (for example, taking groups out scuba diving), but you'll likely find yourself asked to assist with the cleaning of toys and equipment, or helping guests with gear and keeping safe.
3. Lookout duties and navigational watches on the bridge
You'll probably already know that working on a Superyacht as a Deckhand requires long working hours – but did you know that you could also find yourself working during the night as well as in the daytime?
Completing lookout duties and navigational watches is incredibly important for passenger and crew safety. In short, this involves keeping a constant and close eye on the water for things like floating objects, distress signals, problems with the Superyacht's navigational lights and more.
You'll then need to report any of these incidences to your Officer of the Watch so that they can be dealt with swiftly and safely.
This is also something that the Flying Fish team will cover in your Superyacht Deckhand training in the Proficiency in Designated Security Duties (PDSD) part of the course, so when you take on your first Deckhand or Deck Officer jobs on Superyachts, you'll be more than prepared for whatever comes your way!
4. Supporting other departments on board
There are four different departments on Superyachts; the Deck (which you as a Deckhand will be a part of), Engineering, Interior, and Galley. During peak season, it's very likely that you'll be asked to come and help out the teams in these other departments!
For example, you may be asked to support the Stewardesses with housekeeping or serving meals to guests, or you may be called in by the Engineering department to assist with repairs.
This means you'll need to be flexible, proactive and a good team player – and make sure your customer service skills are up to scratch!
5. Becoming part of the Superyacht family
This duty can't typically be found in the requirements for deck officer jobs on Superyachts, but it's something that our instructors at Flying Fish can't emphasise enough!
When you become a Superyacht Deckhand, you'll be working alongside the same people from dawn till dusk, and often in between, and the Superyacht will be your home as well as your office.
It's therefore incredibly important that you take the time and effort to build and maintain positive relationships with your fellow crew members! Whether this is through supporting the other departments on board, or simply helping someone keep their chin up on a bad day.
With a positive, can-do attitude and a willingness to get stuck in and help, you can't go far wrong!
These duties only really scratch the surface of what will be required of you when you start working as a Superyacht Deckhand.
Plus, depending on the yacht you work on, the company you work for and the size of the crew on board, your duties could be even more widespread. It's therefore essential that your Superyacht Deckhand training covers all bases so you can be as prepared as possible.
At Flying Fish, our acclaimed Superyacht Deckhand course does exactly that! From your STCW Basic Safety training to maintenance work, powerboat training to radio communications and more, the two-week course checks every box (and then some) to ensure you come out the other side ready and raring to go!
Want to find out more? Then be sure to get in touch, or explore the course in more detail via the link below!