Similar to any organisation, there is a hierarchy of authority on board a super yacht.
Having an understanding of yacht crew positions helps you know who to report to, but also aids your focus of career progression and what path you should take.
In general there is a hierarchy of yacht crew positions, but the role itself and job descriptions will vary from yacht to yacht.
The larger the yacht the more crew is needed where additional staff will be required to ensure the smooth operation of the yacht.
The diagram below is a basic crew structure guide on board a super yacht.
What is the hierarchy on a super yacht?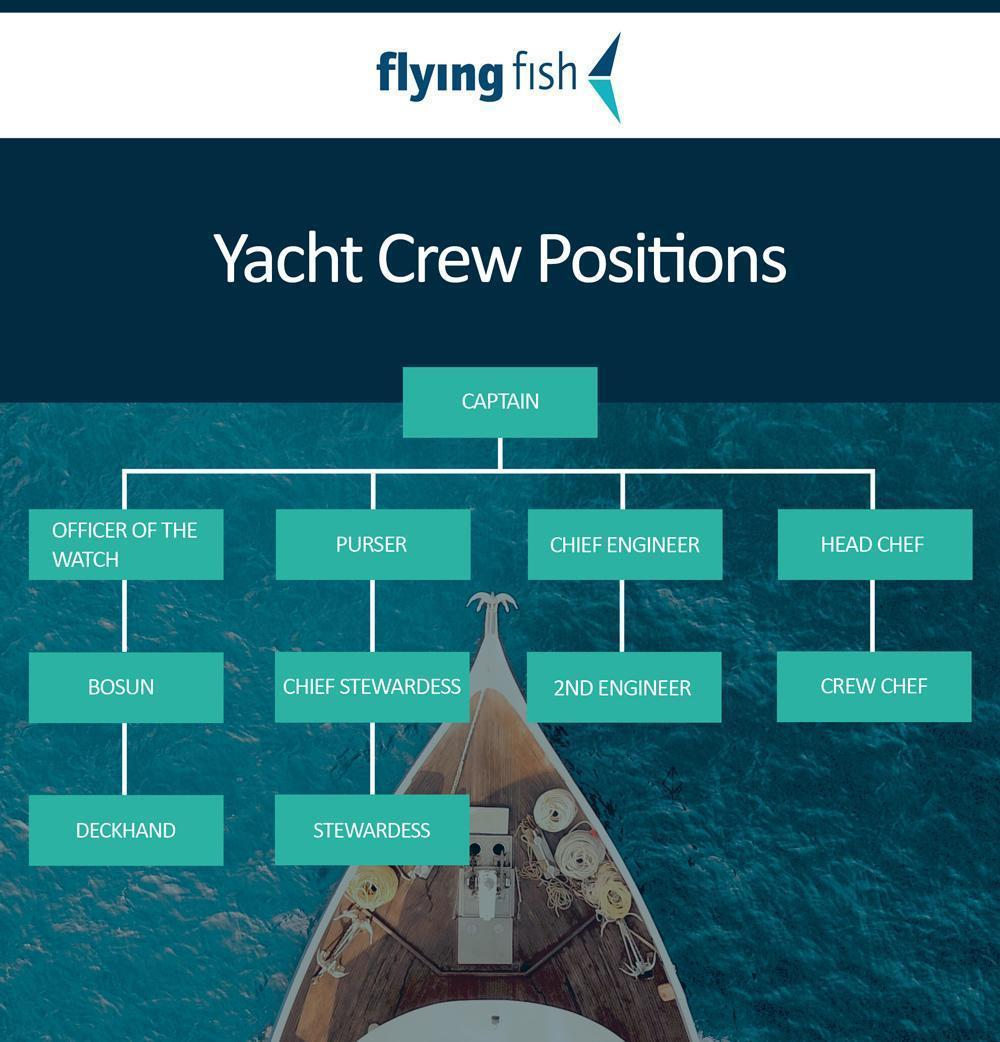 If you are interested in the wage of these positions on a yacht, have a look at our yacht crew salary guide.
Captain – He or she has ultimate responsibility for the safe running of the yacht and liaises with the guests and owners.
Chief Engineer – Responsible for all things mechanical and electrical on the yacht.
Officer of the Watch (OOW) – The second in command to the captain. The OOW run a watch when on passage and usually looks after the navigation. Responsible for the day to day running of the deck.
Chief Stewardess – In charge of the yachts interior, service and laundry. The Chief Stewardess makes sure the guests or owners receive a 5* service 24 hours a day.
Chef – Provides high quality food for the guests, owners and crew. Having a well fed crew makes for a happy boat! Large yachts will employ a separate crew and guest chef.
Bosun – Also known as Senior Deckhand, and often has a few seasons experience. He or she will take charge of daily cleaning and maintenance tasks. They will also drive the yachts tenders.
Deckhand – Involved with all the maintenance and cleaning to ensuring that the yacht is in perfect condition all the time. Will be involved in deck operations, mooring, anchoring and sometimes security.
Stewardess – Responsible for the interior of the yacht, service, cabin preparation and for ensuring the guest and owners have everything they need.