Working in yachting is an amazing career choice.
Let's face it, what other job enables you to travel to some of the world's most exciting destinations on board a luxury vessel with all expenses taken care of – and be paid for doing so, too?
Suppose you're considering a career as a yachtie. In that case, you might be wondering how to get into the yachting industry and if you have the relevant skills and experience needed to survive onboard a Superyacht.
So, from Deckhand roles to Stewardess positions, read on to discover whether or not you've got what it takes to work in yachting…
Jobs on board a Superyacht
First things first, you need to decide what sort of job you are looking for. If you are entering the industry for the first time, there are two roles that people apply for, Deckhand or Steward/ess.
As Superyacht Deckhand where you will be responsible for maintaining the exterior of the yacht and its toys, as well as driving the yacht's tenders.
A Superyacht Stewardess, you will be tasked with taking care of guests and giving them a five-star experience.
Depending on the size of the yacht, you could find yourself working as part of a larger team, or on a smaller yacht (24 meters), you could be the only Deckhand or Steward onboard.
However, the great news is that whichever role you decide on, you will likely have some of the necessary skills to succeed.
So, if you're considering embarking on a career in yachting, read on to see if you have the relevant skills and experience to sail away into the sunset!
Do I have the right experience to work in yachting?
The great news is that whatever your background and no matter how limited your previous work experience, there are a lot of transferable skills that will serve you well as a yachtie (more on that below!).
Generally speaking, as long as you have a strong work ethic and the drive and determination to succeed, you'll have what it takes. In addition, work experience in the following sectors is always beneficial:
Hospitality
Working on board a Superyacht takes hospitality to a whole new level, so a background in hospitality is always a plus.
Whether you've previously worked as a waitress, behind a bar, or even as a barista, all of the skills and knowledge you've picked up will certainly come in handy – especially if your guests have asked for a fine dining experience on deck or order a round of espresso martinis after dinner!
When it comes to yachting, the devil is in the detail. Whether it's ensuring that the cabins are immaculate to having your guests' favourite drink ready for them when they arrive at dinner, it's the little things that count.
It's no wonder, then, that your hospitality experience will most definitely serve you well!
Customer service
Whether you're working as part of the interior team or looking after the exterior of the yacht, you need exceptional customer service skills to work on board a Superyacht, so if your previous jobs have seen you work in a customer-facing role, now's the time to put those skills to the test!
From the moment you leave your cabin in the morning to the second you turn in for the night, you'll need to ensure that your guests have everything they need and more. You should be empathetic towards your guests' needs, be patient, communicate with them effectively, and above all, make sure you smile at all times!
Remember, nothing is too much trouble for your guests, which is why customer service skills are so important – so, any experience you have in the customer service industry will be a definite bonus when it comes to securing a job on a Superyacht!
Water sports
Yachting and water sports go together like sipping a cocktail on a summer's evening. The two go hand in hand – so if you have any previous experience in water sports, it will most definitely come in handy on board a Superyacht!
Perhaps you've previously worked as a watersports instructor, or maybe you're qualified as a SUP instructor or PADI divemaster – whatever your previous experience, knowledge of water sports will go down a storm on board.
Additional experience
Some professions are always in high demand, such as chefs, nurses, nannies, personal trainers, and hair and beauty therapists. With these skill sets in high demand, any previous will look great on the CV.
Don't worry if you don't have any specific skills, as long as you have a fantastic work ethic, attitude, and are a good team player then with some basic skills, you can become a Deckhand or Steward/ess.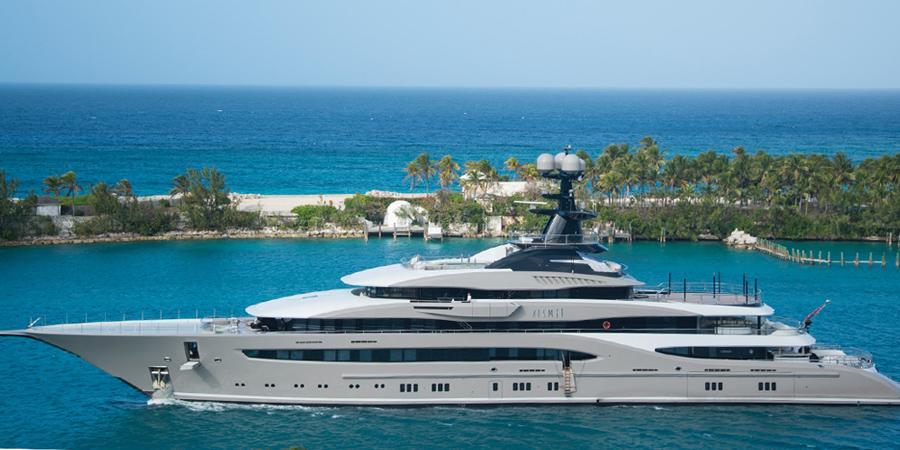 6 skills you need to work in yachting
1. A positive mindset
Working onboard a Superyacht is great fun, but the hours can be long, and the shifts can be challenging – which is why it is so important to remain positive and upbeat, for the benefit of both your crew and your guests!
Be the first to get stuck into any task, and always volunteer yourselves whenever and wherever you are needed – even if it's in a different department.
2. A strong work ethic
Whatever your work experience before stepping onboard, one of the most important skills you will need to succeed is a strong work ethic.
Work onboard a Superyacht never stops. From your day-to-day duties to the extra jobs and tasks you will have to undertake to ensure your guests have the best possible experience, work can come any time day or night – especially in the peak of charter season.
It's no wonder that Islander Magazine found that Superyacht crew members with a strong work ethic usually do best! 
3. The ability to keep calm under pressure
As a Yachtie, when things go wrong, it will be up to you to find a solution and turn things around – so it's essential that you can remain calm and focused, keep your composure, and ultimately find solutions so that you can resolve any issues or problems before they escalate.
Whether it's an excursion that needs to be rescheduled or a bout of bad weather putting a stop to plans to dine on deck, in such scenarios, it's important to utilise your problem-solving skills to quickly resolve any issues and find a solution that works for everyone – whilst keeping your composure, of course!
4. Impeccable communication skills
Good communication is essential in the yachting world – so any communication skills you have picked up in your previous employment will serve you well on board a Superyacht.
Whether you're working as a Deckhand or Stewardess, your ability to communicate effectively with your guests is super important.
Plus, you'll also need to keep all crew members informed of what's going on at all times, both in person and over the radio, so your communications skills need to be top-notch!
5. Be a team player
When you work on board a Superyacht, teamwork is essential. Not only will you be working alongside your fellow Stewardesses and/or Deckhands, but you will also be working together with the rest of the crew as well, which is why it's so important to be a team player and put the goals of the crew first at all times.
Plus, because you'll be living and working with your crew members 24/7, you're like one big family – so it's really important that you all get along!
6. Time management
Finally, time management skills are essential for yachties – so if you have experience managing your time in a previous role, you'll definitely get the chance to put those skills to good use.
You will be expected to arrive for your shift on time. There is a tradition in the maritime industry for timekeeping, everybody is expected to be on time – no excuses. Furthermore, if you work on a Superyacht, then no two days are rarely the same, owners and, or guest's plans can change instantly, and the crew has to adapt. Managing your time and working to a schedule is important to any yacht crew.
Think you've got what it takes to work on a yacht?
If you think you've got what it takes to become a yachtie, the next step is to start your training!
Our specialist Superyacht Stewardess and Superyacht Dekhand courses include modules on STCW Basic Safety Training and more to ensure that you have everything you need to succeed in your role from your very first day on board.
If you would like to learn more then you can download our free guide to working on a Superyacht which has loads of useful information to help you plan your new career.